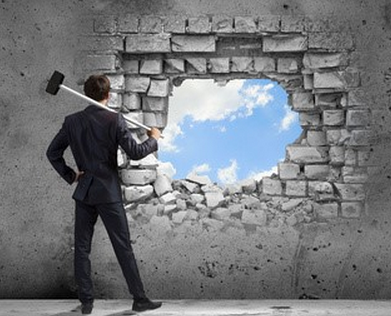 Breaking Through To Your Goal
    Sales Collateral, whether it is the Resume,
   Brag Good, Success Stories, Testimonials,
   LinkedIn Recommendations and/or other
   material, all contribute to ONE OBJECTIVE:
   to showcase you as the best choice they
   have to do what they need to have done.
   This is a sales campaign and you, like it
   or not, are THE PRODUCT that YOU MUST
   SELL to secure LANDING THE GOOD JOB.
   WHAT COLLATERAL DO YOU NEED?
   This will be driven largely by what type and level of a job you are applying for.    
   Hours after you walk out of a new car showroom, most of the details discussed
will
   be forgotten. You will have focused on a few key areas that that, often, it all.  Using
   collateral to refresh memories and discussions is a powerful means to continue the
   sales campaign after you have left the meeting.

   The purpose of collateral is to talk about it with your customer (the hiring decision
   makers), leave it with them for review and discussion about what you bring to their
   table of knowledge and skills plus the wealth of experiences that can be applied to
   their needs including mentoring and training others within the company. This is a
   simple matter of going "outside the box" of the interview bringing things to life. 
 THE RESUME
 While not necessarily your "strong Ace card", this is what everyone wants first.

 The starting document to selling yourself. A one to two-page document that
 showcasing your employers, skills, and experiences using high impact words,
 numbers as much as possible, focus in the areas of cost containment, cost
 control, cost reduction, revenue enhancement, revenue gains, market share
 growth, new capabilities, new strategies and anything else that enhances the
 position in the marketplace and owners/shareholders through increasing the
 revenues, controlling or shrinking expenses and enhancing productivity. 


 THE BRAG GOOD
 A book, created from the strong accomplishments, awards and recognitions
 received internally and from those outside your employer (customers, vendors,
 service providers, external support groups, industry trade groups, User Groups,
 and others) plus those things people were impressed with to those things you
 achieved that left people amazed and impressed, achieving above and beyond,
 what some believed was not even possible.

 This will be a "mixed media" document using a 3-ring binder, clear protective
 page covers, tabs, and lots of photographs (ideally in color) showing some of the
 items from your work and rewards, awards, and recognitions using photographs
 with narratives of what you were presented with and why.

 Pictures will tell 1,000 words and pictures dealing with your success will speak
 many volumes on your worth to your next employer in the correct environment.

 Always keep this material in "print ready" images electronically allowing you to
 reproduce the document in the event of loss or damage, but to also prepare an
 additional copy as a "closer" for managers who want a copy to review for a period
 of time. Often this reinforces their focus towards hiring you and helps them make
 their case to other decision makers involved in the process.

 There is nothing that tops proven, established success using photographs!



 MY STRENGTHS SALES SHEET
 Create a one-sided page highlighting your strengths and/or achievements that
 made a big difference and you can repeat that success because you "own" that
 process. Remember, a one-page, one-sided sheet of paper ONLY.



 LISTS
 Consider creating lists of the following WHERE YOU WILL NOT OPEN THE DOORS
 to claims of misrepresentation, exposing Proprietary or Confidential Information,
 other items of value which could damage your prospective employer and bring
 a cloud of distrust and potential financial damages to your reputation and career.
 When it doubt, leave it out.

 List of Companies you worked for
 List of Customers you provided goods or services to
 List of Industries you have worked in through any capacity
 List of Countries you have worked in or managed efforts in
 List of Products you have experience with
 List of Technologies you are experienced with (hardware and software)




 SUCCESS STORIES
 Business likes stories that end happily, and who doesn't. But Business is also very
 realistic and know that there are horror stories out there and not everything else
 happily.

 Your strong card here is/are stories that were going horribly wrong until you were
 brought in and turned an on-going train wreck into a success story.  Do something
 in a conservative take no risks method will almost come out successfully. Take a
 story of something that ran off the tracks and into the Bayou and you saved the
 people, the train, the cargo and received accommodations ... that's a winner!

 Not everyone has such a dramatic story in their history, but what is of greater
 importance is that you have some scaled to the work you are responsible for.
 The Apartment Doorman may save people's lives by alerting them to a large fire,
 but that is an expected duty. What have you done that was not necessarily in your
 area of responsibility that brought a troubled situation back to a winning one?
 Most people will NOT REMEMBER these so you may need to ask people you have
 worked with about the great things you achieved that impressed them!



 LETTERS OF THANKS OR APPRECIATION
 Most people do NOT like writing letters.  It takes time, it is not easy, it will be
 around beyond after they die for people to laugh at and something may come
 back to haunt them.

 And these are reasons why you WANT TO GET THEM. The fact someone would go
 out on a perceived limb to recognize someone is a strong indication of this person
 having done something really great, something worthy notice by their managers.

 Just make sure you receive a copy as some managers may not want to circulate
 the news of effort well done due to personal agendas or due to the lack of good
 manager skills.